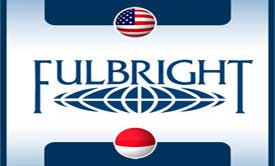 This research grant is intended to provide U.S. research opportunities for doctoral candidates who are in the final stages of writing their dissertation at an Indonesian University, and are also serving as faculty members at any private or state higher education institutions. The grant duration is for a period of four months. The applicant should have a minimum ITP TOEFL score of 525 or IELTS 5.5 or IBT TOEFL score of 70/71 to participate in this program. Please note that TOEFL prediction or TOEFL-like score cannot be accepted.
HOW TO APPLY
Candidates should complete the appropriate application form which can be downloaded below and send it to DIKTI address as shown on the last page of the application form. Please return your complete application package by the application deadline that includes:
Completed application form. This includes a clearly written and concise one page study objective, and also three to five pages research proposal.
Copy of your most recent, less than two years old, institutional ITP/IBT TOEFL or IELTS score report.
Two letters of reference, from a lecturer/professor and work supervisor who know you well.
One letter of support from dissertation adviser
Copy of identity document (KTP or passport).

CONTACT INFORMATION
Specific questions regarding the application process may be addressed to the following address: http://beasiswa.dikti.go.id
DEADLINE
The deadline for the submission of application materials for all programs is April 15, 2014. DIKTI does not accept email applications. Hard copies must be sent or delivered to DIKTI Address
Note: Program requirements are subject to change without notice.
To download form click here

Disclaimer: Every effort has been made to ensure the above information is current and correct. However, applicants should contact the appropriate administering body before making an application, as details do change frequently.